Everyone of us is unique, and this also applies to how we react to medical treatments we receive when we need them. The goal of my research group is to make medicine in the 21st century safer and more effective through advancing computational personalized medicine: using modern computer technology to better tailor pharmacotherapy to the specific needs of specific patients.
This interdisciplinary R&D endeavour includes genomics, pharmacology, computer science and clinical medicine. It spans across four research areas – from basic human biology to application in clinical practice – as outlined below:
1) Understanding the dynamic landscape of genomic medicine and clinical pharmacology
Monitor new genomic research results, medical findings and clinical guidelines.
Monitor newly available molecular diagnostics.
Help uncover knowledge in published literature through automated text mining.
Help clarify associations between genetic traits and clinical outcomes through machine learning.
2) Formalizing complex pharmacological and genomic knowledge
Translate complex knowledge from clinical pharmacology and genomics into formalisms that can be used and reasoned upon by machines.
Integrate data and rules coming from diverse sources into a coherent model.
Foster the availability of open data in accessible and interoperable formats, working with global institutions such as the World Wide Web Consortium and Open Knowledge.
3) Anchoring personal genomic data and decision support systems in medical routine
Develop strategies to make essential genomic data of patients easily available at the point of care – e.g., through 2D barcodes or integrating genomic data into electronic health records.
Develop clinical decision support systems that assist medical professionals in using complex data about personal genomic traits, drug interactions and other patient characteristics.
Optimize human-computer interaction and user interfaces to ensure ease-of-use and practicality in busy medical routine.
Develop efficient retrieval/search systems for medical knowledge.
Ensure validity and reliability of decision support systems and genome analysis pipelines to meet the high standards required in clinical settings.
Adapting to regulatory requirements (e.g., medical device directives applying to software).
4) Conducting population-level analyses & impact evaluation
Regularly conducting cost-effectiveness analyses to judge the impact and cost of personalized interventions based on claims data, population genetics, costs associated with genomic testing and health economic estimates.
Learn from listening to patients and medical professionals.
Help decision makers discern hope from hype.
Help inform payers / health insurance organization about health economic advantages.
Inform new developments in basic R&D.
Highlighted projects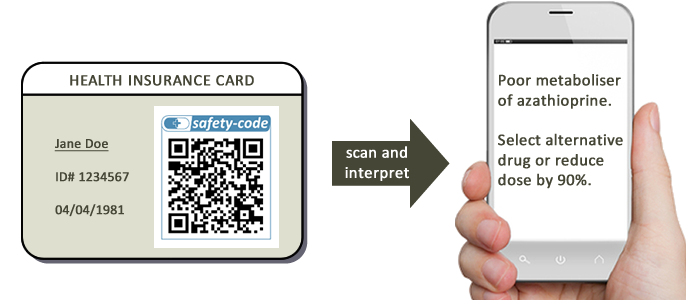 The Medication Safety Code initiative is an effort to improve the ability of clinicians and patients to share pharmacogenetic data and to use it at the point of care. We are developing a standardized, anonymous 2D barcode representation of essential pharmacogenomic markers and other patient data relevant for tailoring pharmacotherapy. We are also developing web- and mobile-based applications for interpreting these data in clinical routine.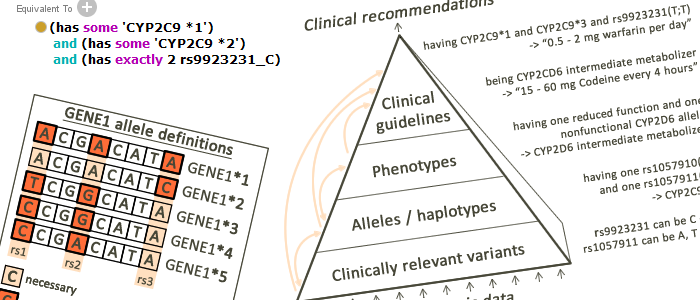 The growing Genomic Clinical Decision Support (Genomic CDS) knowledge base contains curated and interlinked data on genetic markers, haplotype definition, phenotypes, clinical guidelines and molecular assays. The goal of this project is to provide an open knowledge base that can be used for implementing reliabe decision support systems for genomic medicine.

FindMeEvidence is an efficient search engine for rapidly reviewing current, openly available medical evidence. We are actively developing FindMeEvidence as an open-source project.